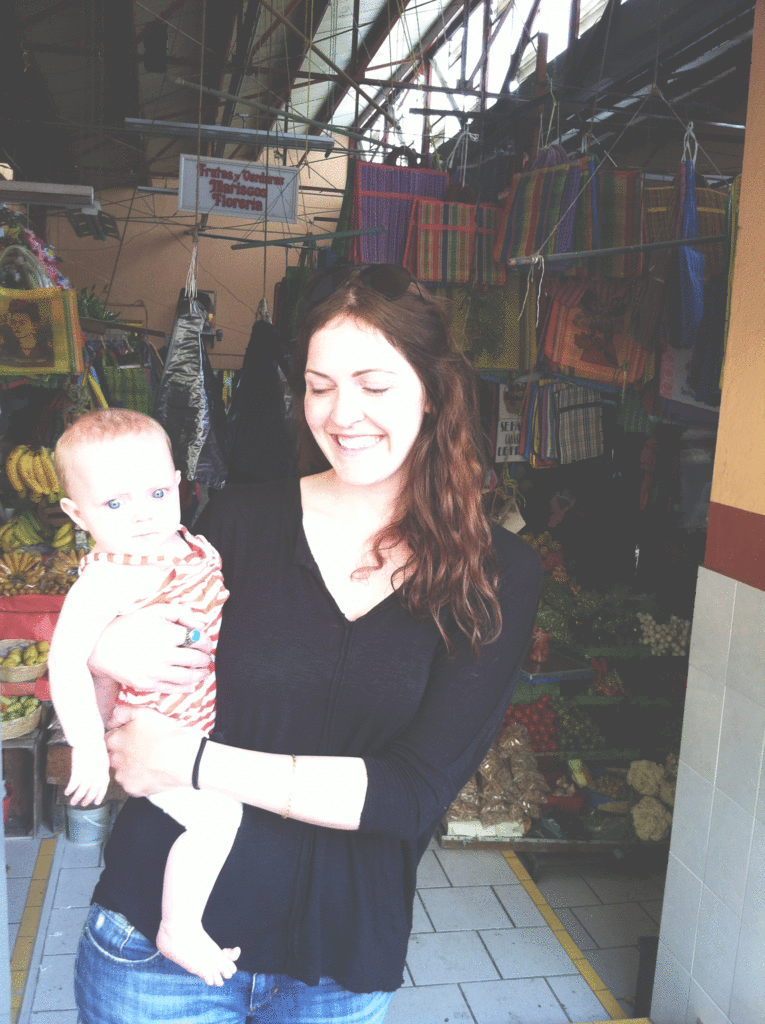 Traveling is very important to me (and Michael). We don't get to travel as much as we'd like, what with money and time not being abundant, but we do try to travel as much as possible. Now that we have a baby, we are so excited to show her the world and introduce her to different places and cultures. And keep seeing new things ourselves! Also, I'm a bit restless and like change, rather than routine. So travel is essential for me!
Recently, we went for a quick visit to my
sister
and soon to be b
rother-in-law
at their new place in San Miguel de Allende, Mexico. They are serious travelers, but have found a home base in Mexico. Lucky for us, as now we have a great excuse and place to visit in Mexico!
I wasn't too nervous about traveling with Violet, who is just under 8 months old, but my one small worry was that she might be in pain on the flight from the pressure. Plus, you just never know- traveling always has unexpected events! However, I know she loves seeing new things and people, and as long as she was with us, she would be fine. She is such a happy and engaging baby that she makes friends wherever she goes. Well, I'm here to tell you that we not only survived, we had a great time! Flights and all! A post on our time there to come shortly, but I thought I would share my tips for traveling with a baby, as I eagerly read many such posts before we went.
1. Book flights around napping/sleeping times. Kind of obvious, and maybe not always doable, but we had great success flying the red eye (with a delay and layover), and even though Violet didn't fall asleep until around 1am (eek!), when she did, she was out. On the way back, we had an early morning flight again with a layover, and she slept for a large portion of it.
2. If there are two adults traveling, book a window and an aisle seat. Hopefully, if the flight isn't super full, you will have that middle seat free to stretch out a bit. This didn't work out for us, as all our flights were booked, but it would have been really nice.
3. Bring distractions. (Obvi, right?). You know your babies favorite toys? Hide them for a couple days before the flight, then bust then out! A few of our faves:
this book
,
this book
,
this toy
,
this toy
. Also, all those inflight magazines? Violet loved pulling them out of the seat pocket.
4. Wear something comfortable yourself. I love
these pants
for traveling, and while they are a bit on the expensive side, the are totally worth it. Lightweight, cozy, elastic waistband, and flattering! The best. Also, I love a good scarf for travel. Can also be used as a blanket nursing cover, spit up rag, etc.
5. Carseat. To bring or not to bring? We opted to bring ours and just gate checked it for all our flights (which is free!). Also, that way it hopefully doesn't get banged around as much. We felt safer bringing our own than trusting the rental car company, but do what feels best. It didn't feel like a big inconvenience to carry it in the airport and sometimes Violet even sat around in it.
6. Buy diapers when you arrive. Ok, my sister kindly bought some for us before we got there, but we just took enough for the plane. It saves a ton of space in your luggage.
7. Bring an extra outfit for baby on the plane. A major fail for me here. Violet had a blowout on the flight and I had forgotten to pack extra clothes (sad face). So, she remained in a slightly dirty onesie with no pants for the remainder of the flights. We wrapped her up in my scarf though (see #4), so she was warm and comfy. Lesson learned!
8. Go with the flow. You are not going to be able to follow your exact schedule that you have at home. And you may have to take some breaks during the day, or return to your hotel a bit early to let your baby nap. Just go with whether your baby seems to be in a good mood and stay out, or if they are having a melt-down, change plans. Violet did so well, and loved seeing the town and meeting new people. We stayed out late one evening and I fed her on the go in the
Ergo
. She also napped in it, which was great. I highly recommend.
That's all I have for now! I can't wait to travel again. I'm already scheming of new places to go... I would love to hear if you have any tips for traveling with a baby!